Imagine walking down a bustling street, earphones in, and suddenly, the world around you transforms. The trees seem to sway in rhythm, every passerby has a purpose, and you? You're the main character, stepping right out of a coming-of-age movie scene. The magic behind this feeling? A playlist titled "POV: You're the Main Character."
Spanning the roller coaster of emotions that come with teenage angst, first loves, comedic twists, and dramatic finales, this playlist captures the essence of being the focal point in a film, with every song telling a chapter of your cinematic story.
Scene-Setting Tracks
From the raw emotions of The 1975's artful lyrics to Fleetwood Mac's timeless anthems, every track serves as a backdrop to a moment you've either lived or dreamt of. The atmospheric tunes of The Neighbourhood and Joji encapsulate the feel of introspective nighttime drives, passing city lights reflecting on wet roads. Meanwhile, the energy of Fall Out Boy transports listeners straight into the climax of a high school rom-com, where the protagonist makes that grand romantic gesture.
Emotions in High Definition
Artists like Moose Blood and Ed Sheeran are the masterminds behind those heartfelt melodies that tug at your heartstrings. Their songs play during the moments of self-discovery, the slow dances, and the rain-soaked confessions.
Hidden Gems & Rising Stars
The beauty of this playlist lies not only in the chart-topping legends but also in the budding artists who offer a fresh perspective.
A Story in Every Beat
The genius of "POV: You're the Main Character" lies in its ability to make everyday moments cinematic. Whether you're running errands, studying, or just lounging around, it gives you the license to imagine, dream, and truly feel like the protagonist of your own story.
And as the playlist progresses, it offers a heartwarming message: Every person, every emotion, every mundane moment can be cinematic — it's all about perspective.
So, the next time you wish to drift into a world where you're the star, hit play and let the "POV: You're the Main Character" playlist guide your narrative. ??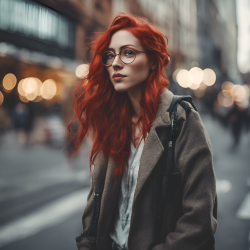 Latest posts by Lila Moon
(see all)