In the heart of Arizona, a vocal powerhouse named Molly Marie is captivating listeners with her unique blend of pop and alternative music. Known for her emotive lyrics and compelling voice, she offers a fresh and authentic perspective on love, relationships, and the creative process. We caught up with Molly to delve into the motivations and influences that shape her artistic journey.
The Interview
---
1.  Can you kick things off by sharing the inspiration behind your
journey into pop and alternative music?
Of course! I have always been in love with music. I grew up with a wide variety of genres around me. My dad would always put on oldies. My mom would play r&b/hip hop music. I eventually stumbled onto bands like Paramore and Underoath, which opened up another world that took my music taste even further. I think all the different genres I listened to growing up really shaped who I am as an artist at this present time.  I joined my first band (Boldly, We Rise) when I was in high school, and that is what really got me into the local scene here in Arizona. With them I played venues such as The Nile, The Underground, and The Clubhouse. I did take a long hiatus after I had left the band. However, I did make my return by putting my own music out there into the world. I haven't stopped since! Last year I played my first two shows as a solo artist at The Rebel Lounge and The Nile Underground. I can't wait to perform again in the future!
2. Your songs often explore themes of love and relationships. What fuels this focus?
To be quite honest, I used to not be very good at writing music or lyrics. I sort of learned more after going through life and early adulthood.. You go through relationships, and simply just things that happen in life. That's when I got the groove of it. I realized that my passion lies in my emotions and my thoughts. So, I write better when it's real and I can connect with it. All of my lyrics are inspired by my own relationships and my life. It's truly terrifying to put out songs like that, but it's also very therapeutic. Because of that, I hope that my music can resonate with people. Whether they've gone through similar things, or they have a new meaning of their own that they end up resonating with.
3. You've collaborated with Sunrises and Roovillain. What do you seek in collaborations?
I like working with artists who are just as passionate about music as I am. People who just get it, you know? Sunrises has been a close friend of mine for about 12 years. I'd say it's the most consistent musical friendship I have ever had. We've collaborated several times throughout those years. Our first collaboration was our song "Limbo"; which I love. Those times in the studio with him are some of my favorite times. Roovillain and I actually met through Sunrises and we connected over r&b/hip hop music. So we got together and wrote "Ghost". Honorable mention to Dank Delish as well. We made "Honey Lavender" together. They've got a very retro and nostalgic vibe to their music that I enjoy a lot. It's just fun to put two brains together and make something cool. I always look forward to future collaborations!
4. Your music is emotionally intense. How do you capture these feelings?
Thanks for saying that. Sometimes, when I'm going through something, I'll go and write. Whether that be part of the instrumental or the lyrics. Experiences tend to stay with me. So I can write about something that happened this week or years ago. It really just depends. I have my notes app on my phone that I have full of thoughts and lyrics. A lot of those get turned into songs eventually. It might sound cheesy, but I get inspired by the moon and the nature around me a lot.
5. Who have been your musical influences?
Absolutely. Especially vocally, I've been influenced by a lot of women vocalists. Such as JoJo, Christina Aguilera, Mariah Carey, Whitney Houston, and Hayley Williams. My favorite thing to do is learn their songs and challenge myself. These amazingly talented women have got ridiculous vocal pipes. I strive to be the best vocalist that I can be. I'd be nowhere I am now if I didn't practice as much as I have.  Paramore has a huge influence in my style as well. They are and always will be my favorite band. I've also gotten pretty heavy into indie bands and I think that has influenced my style a little differently the past few years. Some favorites I can think of are Cherry Glazerr, Widowspeak, Ty Segall, Honeyblood, True Widow, and Warpaint.
6. Has Arizona influenced your music in any way?
I'm sure it has a bit. I think if I had an alternative environment, perhaps my music would be different. I don't think it would be predominantly different, though. After all, my songs are mainly influenced by my life experiences.
7. What challenges have you faced in the competitive world of pop and alternative music?
The most challenging part is to not let myself get discouraged. I've got my moments where I do. Though it really is an ebb and flow. I always say that if you don't try, you'll never get anywhere and you'll never know. I don't want to ever spend my life thinking, "What if?". That's what I try to live by!
8. Any song that holds a special place in your heart?
I'd have to say that would be "Closer". It's one that I'm super proud of. I wrote it by myself when I was getting over the end of a relationship. It was a sort of closing chapter for me. So in a funny way, the song is about wanting to be close to that person. But also it was a 'closer' to move on.
9. You've ventured into alternative music despite conventional wisdom suggesting sticking to one genre. Why?
While I do understand the idea of sticking to one genre, I don't think it should be detrimental. I'm proud of myself for just making the music I want to make, always. Over time I've also seen more and more artists doing the same. I think it can feel restrictive and it can disrupt the natural writing process, if you try to always stay in one genre box. It's okay to change it up! Especially if you have a wide genre taste. That's the pro side of not being signed to a record label, you get to call all of the shots.
Conclusion
Molly Marie is a testament to the power of authentic storytelling through music. Her journey shows us that genre lines can blur, and that true artistry resides in the ability to capture the complex tapestry of human emotions. With her insightful perspectives and deep-rooted passion, Molly continues to pave her own path, inspiring us all along the way.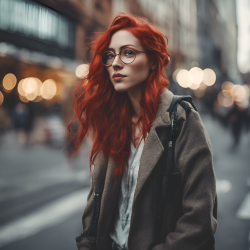 Latest posts by Lila Moon
(see all)